EDIT MAIN
Registration Information
2020-2021 school year
Orangeville Schools offer out-of-district tuition at $3,500/year. Call 815-789-4450 if you have questions.
If your student is not returning to school this year, please fill out a Student Withdrawal Form and return it to the school before the start of classes in the fall, then we will know to expect a records request from your new school.
If your child is not enrolled in Orangeville High School but is a resident of the district and would like to take Driver Education at OHS, please fill out this form and turn it in to the school. Cost will be the same as for a student enrolled in the school.
NEW STUDENTS/FAMILIES:
Starting this school year, we are using Tyler SIS as our school management software. Also new this year is that all our registration forms are online. To be able to send you a link for registration, we need the following information:

Your first & last name
Your email address
Your physical/mailing address
Your student(s) name, birthdate, race/ethnicity, and grade level
You may call the school or email this information to Rachel at rheck@orangevillecusd.com
Click HERE for a .pdf of the Online Instruction packet.
Other items that will need to be turned into the school:

Birth Certificate
Proof of Residency documents (see more info about this below)
(If needed) Medication authorization
You may send these things by mail, email, fax, or by bringing in to the school during office hours.
optional forms:
PROOF OF RESIDENCY:
Evidence of Proof of Residency MUST be provided by families with a student coming into Orangeville School District for the first time, or by those who have moved from one address to another within the district. Evidence given can be from one of two categories. The Proof of Residency Form should be filled out, and then documents from the below categories should be submitted to the school.
Category I only requires one document. It can be one of the following:

Most recent property tax bill & proof of payment
Signed & dated lease & proof of last month's payment
Letter from manager & proof of last month's payment
Mortgage Papers
Letter of residence when person seeking to enroll student is living with a District resident
Category II requires two documents showing proper address:

Driver's License
Voter Registration
Current Library Card
Most recent gas, electric, and/or water bill
Receipt for moving van rental
Vehicle Registration
Most recent cable television and/or credit card bill
Current Public Aid card
Official mail received at new residence
Current homeowners/renters insurance policy & premium payment receipt
medical/health information & forms (if needed):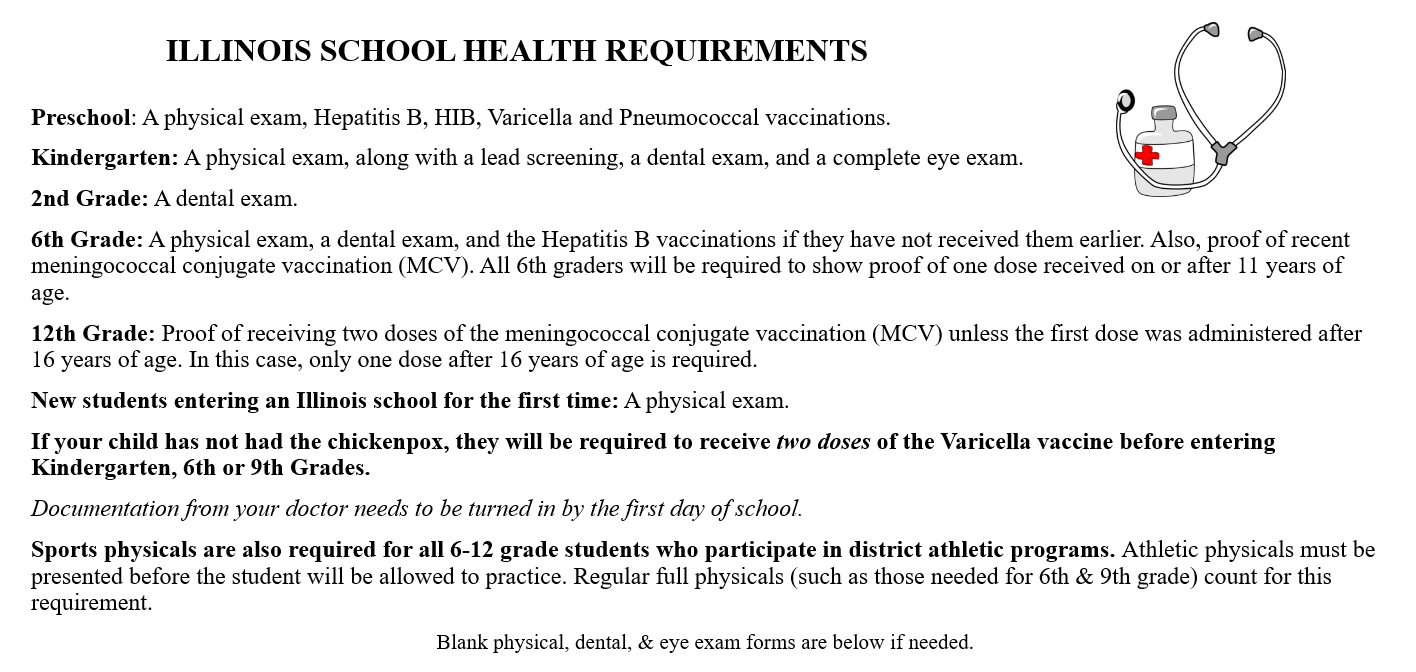 Required extracurricular participation documents:
other information: