UPDATE 6/13:
In the years-old rivalry, this time USA did not come out on top: Team Canada won 3-2 over Team USA to take gold in the U18 Hockey Women's World Championship. But we are SO proud to have been able to cheer on Tessa Janecke & Team USA, silver winners, this past week as they played!
UPDATE 6/12: Team USA wins 3-2 against Sweden (video recap below) to move in to the gold medal game tomorrow, Monday night at 7:30 pm at LaBahn Arena! The match up will again be against rivals Canada. Game will be broadcast on NHL Network live. Also, Tessa was one of three players named IIHF Team USA Players of the tournament!! Congratulations!
UPDATE 6/10: The semifinal game will take place at LaBahn Arena at 6:30 pm on Sunday, 6/12, with USA taking on Sweden. It will be broadcast on NHL Network live.
UPDATE 6/9: Team USA wins 7-0 over Canada (video highlight below) to take the top spot in Group A! They now move on to play on Sunday in the semi final.
You may remember, back in November, we sold t-shirts so that those who wanted to show support to Tessa Janecke as part of the the U18 Women's World Championship team going to Sweden in January, could do so. Unfortunately, due to Covid, those games were cancelled. Then about a month ago I posted that those games were finally rescheduled... right here in the U.S., in Madison! Well, the time has come (I'm even a little behind), and I wanted to give an update:
First, here is Tessa's official photo (I swiped from the USA Hockey page):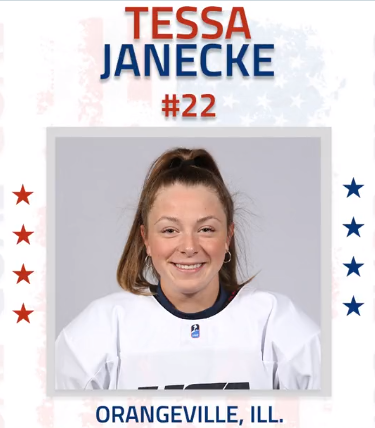 Team USA is part of 'Group A', and two games have taken place already, and the next one is tomorrow, against Canada. If it is available to you, you can watch it live on ESPN+ or re-air on NHL Network.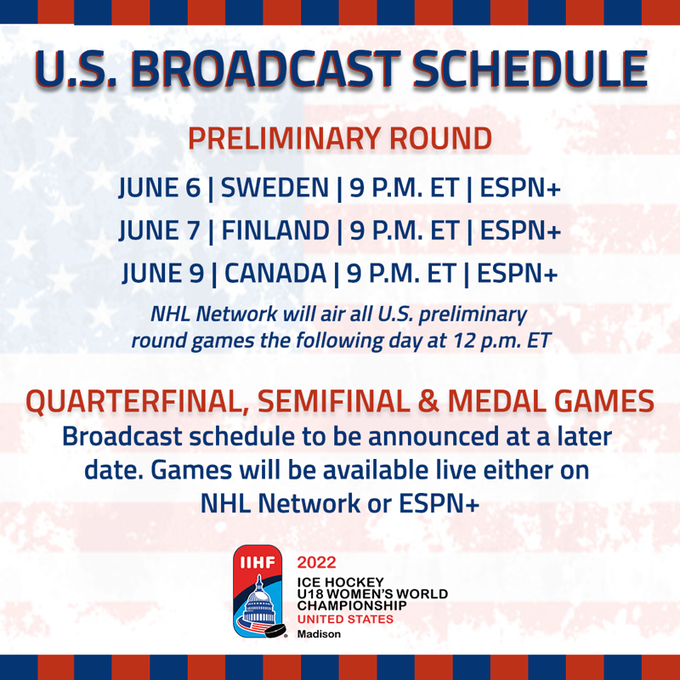 Team USA is doing great, already winning against Sweden (6-1) and Finland (5-0)!
Tessa is also doing an amazing job, with several assists and goals! We are so proud of her! I will update these things as the week goes on. Click below to follow link to some video highlights:
Post Game Interview after Finland game (Tessa is at 3:14)
Interview after getting silver medal (Tessa starts around 4:30)
You can also see more about the team's journey at the following:
Below are the game highlights for the games from USA Hockey:
Thank you everyone for your support!